In this month's progress report we not only have updates for all our projects, but finally the real announcement of our new project Red Skies: Ascension!
This report covers Elemental War, Red Skies: Ascension, Spine and Tri6: Infinite.
Red Skies: Ascension
After teasing our new project for the last two months we're now able to really announce it!

But what is Red Skies: Ascension? Well, if you know our history you know we have been really active in the Gothic modding community. Besides all the projects we released we had one awesome modification we only released a preview version of. That was the GoMoN – Preview. That's basically an RPG mixed with turn-based combat and Pokémon-like mechanics (catching and training monsters, fighting against wild monsters and trainers…).
Red Skies: Ascension is this game developed further. Instead of monsters you will fight with robots. They still will gain experience and have different skills to learn. They will also be customizable via an upgrade system. That means you will be able to exchange their parts to change their stats and look. It will still be an RPG, you have your player character, will explore the world, solve quests and puzzles and level-up and equip your robots.
The story of Red Skies: Ascension plays in the future, after the apocalypse. The sun is covered by dust, living on Earth is almost impossible. Just a few people are still alive and their goal is to start a new life above the clouds to escape the hostile environment on the planet.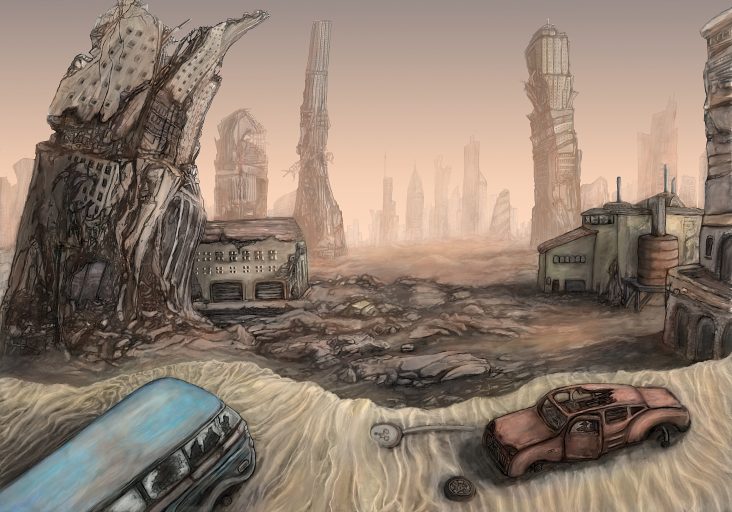 During the story you will be able to explore parts of the world. It won't be a big open world as we are a small team and want to put the focus on the atmosphere and story. That means we want realistic characters, locations to explore and an environment that will reveal piece by piece its history. But nevertheless we won't make the game completely linear. You will be able to explore each area and discover secret locations.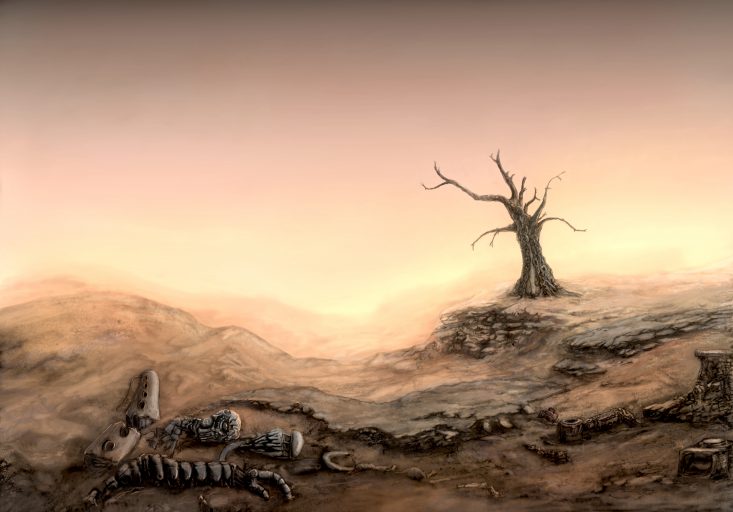 Besides the story, quests and exploration we have two or three more important elements in the game. All of them are mostly tied to the robots in the game.
We already told you that you will be able to let robots fight for you and the combat will be turn-based and inspired by Pokémon. Well, inspired is good because it's of course a little more complex than that and more similar to games like Wizardry 8 and especially Divinity: Original Sin 2. Every robot has a base type that defines some values and skills this robot has. From there on they can be modified to your liking. With up to five robots per fight you will try to beat other characters or even mutants in the world. The robots can move in the "arena" to get targets in range for their attacks or reach strategic positions, there are several status changes from Burning over Blinded to an Electrical short. And of course many different attacks in different categories from Unarmed combat over Two-handed to Firearms and even Missiles & Bombs. All categories will have different attacks/weapons.
These attacks/weapons are added to the robots via the upgrade system. You will be able to customize the important parts of your robots such as the head, arms, legs and the rump. All parts can be found in the world, earned via quests or be your reward for beaten enemies. We might even add more customization options (especially colors), but that's not fix yet.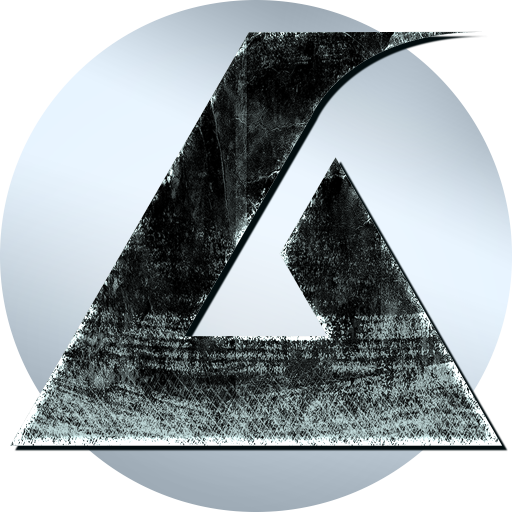 The third element are puzzles in the game. There will be quite some physics puzzles in the game and in most cases you will need your robots to solve them. So the skills of your robots will not only be helpful in fights, but also outside of them. That means for us, that your robots won't be hidden in some mystical "Robot Ball", but instead follow you in the world. Of course we'll take care of it being not annoying so you don't get stuck anywhere or can't reach some spot because the robots block you.
At the moment we have the combat system running in a prototype with all planned features except the robot upgrade system. And of course with placeholder graphics, so nothing to show at the moment (it's really ugly). The good thing is that we can easily test fights now and finetune the mechanics and at the same time work on the other mechanics. This Battle Simulator might be shared with you, our community, to get feedback on the fights early on.
Besides this combat prototype we plan to create a vertical slice of the game in form of a demo next year. That means all gameplay mechanics and the target graphics in a short part of the game including NPCs, dialogs, a puzzle, fights and exploration.
We want to develop Red Skies: Ascension together with our community, so your feedback is very valuable for us. We have many ways you can support us as you can see on our Red Skies homepage. One of the ways is to participate in our bi-weekly polls. After these two weeks we will evaluate your votings and share our own opinions on the topic and of course present the next poll.
Red Skies: Ascension shall be released in 2022 on PC (Windows and Linux), Xbox and PlayStation with playing time of around 15-20 hours.
Read more about Red Skies: Ascension on the dedicated homepage. There you will also see how you can support us with the development of the game.
Elemental War
Elemental War got quite a few updates this month. On September 6th we released the big update to version 1.1.0 that introduced co-op for Classic and Survival Mode to the game.
Two weeks later we released a small patch to version 1.1.1 to address some problems in the game, mostly related to balancing as we discovered some exploits that could lead to very high scores.
And yesterday, on October 4th, we released another small patch to version 1.1.2 to address a bug in the thumbnail generation for the Steam Workshop.
That hotfix was necessary as we started our first map contest. It will run for two weeks, so until October 18th. The best maps will be added to the official map pool so we have even more content in the game for you!
So, yeah, besides the map update around Halloween (I guess a bit earlier) there won't be much activity to see on Elemental War in October except we have something to fix. But behind the scenes we're already working on porting the game to Xbox One! We can't say yet when it will be ready as it's a lot of additional work now, but it will come to Xbox.
Spine
I still have no time to actively work on Spine itself, but therefor the community released some updates and new mods. As a player suggested on Discord I added the Texture Pack of Merlin for all languages. The German MorOrs: Armor Patch got an update and today even the popular enhancement modification Gothic II – Atariar Edition received a big update to version 1.4. The Polish and English translation for the latter one will follow in the future. A newcomer in the Spine library (at least publicly available as it was in there as beta for quite a while) is the German modification Vergessen ist nicht vergangen, which is also available in Polish. And there is also the new Systempack 1.8 version. I already added it for Gothic 2. Gothic 1 will receive the update soon. It always takes some time especially with some fundamental tool like the Systempack and I had a lot work to do especially for the Red Skies: Ascension announcement.
So in general I would say it was a good month for the Gothic mod community. If you still miss mods or have problems, feel free to leave a comment or join our Discord.
Tri6: Infinite
Tri6: Infinite made really great progress this month. We released two updates with more content, first effects and some improvements. The newest version is available via our Discord.
The first update to alpha #3 was released on September 16th. It brought three new powerups, some settings for resolution and input and removed the vehicles except the Bike for now due to some problems.
Alpha #4 from October 2nd added the last four planned powerups. We're still open to adding more if you have nice idea. Just join our Discord and talk with us!
Besides the new powerups we also started adding some first effects for the powerups and the collision of the player's vehicle. They aren't finalized yet, but already add a lot the game.
During October we'll focus on adding more effects and improving the existing gameplay. We hope to get some feedback from you on our Discord. The work on the graphics might start this month, but I guess it has to be delayed to November due to more important work on Elemental War and Red Skies: Ascension.
---
Keep an eye on our homepage, Discord and Twitter, as we'll provide more informations there when we have something to share. And of course also check out the next progress reports in the following months. You can also leave a comment here to share your opinions and subscribe to our newsletter to never miss an important news.
If you missed our last progress report, you can find it here: Progress Report September 2019.
Subscribe to our newsletter!